Special Occasion Cakes & Christmas Festive Foods.
We supply Cakes for Special Occasions ~ Birthdays & Anniversaries ~ as well as festive treats & a full range of festive meats at Christmas.
If you're on holiday & comming to stay in the Lochinver - Kylesku area for Christmas order your Christmas meats, groceries & treats at Drumbeg Stores.
We can usually arrange to deliver to your holiday home ready for your arrival.
All we need to know is your arrival date & estimated time. If you'd like us to deliver shortly in advance of your arrival we also need to know where to find & leave the key & we'll happily put your groceries in your kitchen (and anything chilled / frozen away in your fridge / freezer).
Special Occasions ~ Christmas Festive Foods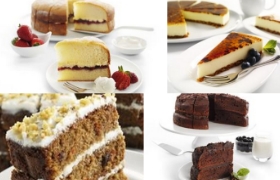 Birthdays, Anniversaries, Special Occasions
We can supply a selection of delicious cakes to help you celebrate birthdays, anniversaries & special occasions ~ or in case you just want to spoil yourself with something really nice. Our selection includes creme brulee cheesecake, chocolate cake, carrot cake & Victoria sandwich cake. Available during our summer season only & by prior arrangement.
Christmas Meats & Festive Baking
At Christmas we supply by prior arrangement all festive meats ~ butchers turkey, partridge, goose, duck, capon, rolled pork leg, silverside, back bacon, chipolatas, butchers stuffings, pork sausages & most other meats ~ all at the same price as you'll pay at the butchers.. We also supply hand-made stollen bread, traditional black bun & mince pies.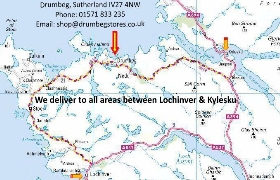 Get your groceries delivered for free
In a remote area like this it makes sense to get your groceries delivered. Save yourself the 'food miles', travel time & hassle.
We deliver to holiday homes in the area between Lochinver & Kylesku.
Delivery is free on orders over £55. (There's normally a small charge on smaller orders).